Sunday Brunch Buffet
Sunday, January 30, 11 am to 3 pm
---
Taste why local is better!
Join us for an easy-going Sunday Brunch Buffett at the Early Inn on January 30th, 2021 from 11 am -3 pm.
The menu for the buffet is a special Chef's Choice.
Expect to see an all-you-can-eat buffet such as: (Subject but not limited to)
Vegetable Quiche
Bacon & Sausage
Ham Sliders
Hashbrown Casserole
Biscuits & Gravy
Mini Pancakes with toppings
Assorted Danishes
Fresh Fruit
Mini Chicken & Waffles
Fresh Salads
and so much more!!
And who doesn't love a good mimosa & bloody mary bar?*
This event is perfect for your entire family to enjoy!
*Alcohol Sold Separately at the Event
COST:
Adult Brunch Buffet: $25
Child Brunch Buffet: $15
Valentine's Day Soiree
Saturday, February 12, 7 pm to 10 pm
---
Treat your loved one to an unforgettable Valentine's Day experience here with us at the Early Inn.
VIP Valentine's Day Package (ONLY 5 AVAILABLE):
A delectable candlelit Dinner for two at 7pm on FEB 12th, 2021. Including appetizers, salad, entrees, and dessert.
One night stay at the Early Inn on FEB 12th, 2021.
Breakfast prepared the next morning.
A $160 couple massage voucher to Vintage Spa in Rocky Mount, VA.
A dozen roses in the room upon arrival.
Chocolate Covered Strawberries in the room upon arrival.
A bottle of wine from our wine list delivered to your room or to your table for dinner.
Other alcoholic beverages sold separately at the event.
Family Style Dinner
Sunday, February 13, 6 pm to 8 pm
---
Looking for a place to take your family for Valentine's Day? The Early Inn has just the event for you!
Enjoy a family-style served dinner under the Grand Oak Pavilion on February 13th, 2022 at 6pm. The heat will be on and the food will be hot! Show your kids some love too and bring them along!
The menu consists but is not limited to:
Chicken Scampi
Beef Tips with Mushroom Gravy
Mashed Potatoes
Southern Style Green Beans
Broccoli Casserole
Fresh Baked Bread
Assorted Homemade Desserts
Non-Alcoholic Beverages
All ladies will receive a fresh-cut flower!
The bar will be open!! Alcoholic beverages are sold separately at the event.
Tickets are required for this event! If you would like to sit with a group during the event, please let us know prior to your arrival.
Dinner & Game Night
Friday, February 25, 6 pm to 8 pm
---
Who's up for some good family competition? Bring your best poker face to the Dinner and Game Night at the Early Inn on February 25th, 2022 at 6pm.
Indulge in a comforting all-you-can-eat Pasta & Salad bar while enjoying fun games and puzzles with your family and friends!
The Menu consists of but is not limited to:
Vegetable Lasagna
Meat Lasagna
Chicken Alfredo
Spaghetti
Salad
Fresh Baked Bread
Assorted Desserts
Food, Drinks, Games, and puzzles are provided! A game of Trivia will be played during the event starting at 7:30. Trivia is optional. The winner of Trivia will receive a gift certificate for a one-night stay at the Early Inn.
The Bar will be open and the heat will be on!*
Tickets for this event are required. If you would like to sit with a group, please let us know prior to your arrival.
*Alcohol sales are separate from ticket sales.
COST:
Adult tickets: $30
Kids 10&U: $15
Kids 3&U: FREE
Tea Party with Desert Rose
Saturday, March 19, 11 pm to 1 pm
---
Join the Early Inn and Desert Rose for a one-of-a-kind Tea Party Collaboration.
Enjoy a delectable Tea Party buffet prepared by our infamous Chef Agnes while planting gorgeous terrariums perfect for spring & Easter!
Choose your favorite terrarium below and be sure to purchase the corresponding ticket to complete your order! All tickets include your choice of terrarium, all-you-can-eat access to the Tea Party Buffet, and an assortment of teas for your enjoyment. The bar will also be open for additional purchases with a grand mimosa bar and other beverages.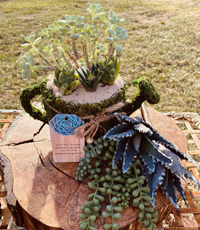 Moss Watering Can
Small Watering Can: $50
Large Watering Can: $60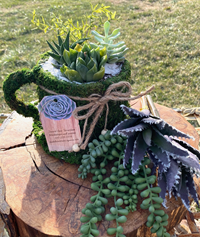 Moss Tea Cup
Small Tea Cup: $40
Large Tea Cup: $50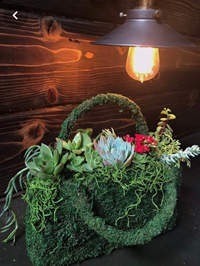 Spring Moss Purse
One Size: $55
Moss Easter Basket
Small Basket: $45
Large Basket: $55
Subscribe to our newsletter